v3360-179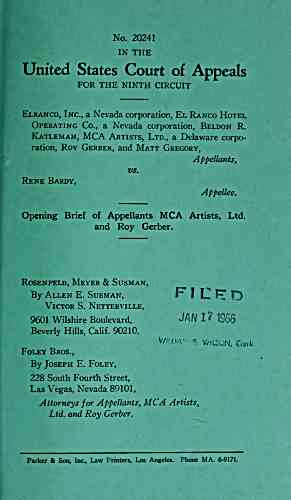 No. 20241
IN THE
United States Court of Appeals
FOR THE NINTH CIRCUIT
Elranco, Inc., a Nevada corporation, El Ranco Hotel
Operating Co., a Nevada corporation, Beldon R.
Katleman, MCA Artists, Ltd., a Delaware corpo-
ration, Roy Gerber, and Matt Gregory,
Appellants,
vs.
Rene Bardy,
Appellee.
Opening Brief of Appellants MCA Artists, Ltd.
and Roy Gerber.
Rosenfeld, Meyer & Susman,
By Allen E. Susman, I L IP
Victor S. Netterville,
9601 Wilshire Boulevard, JAN I'f 13G6
Beverly Hills, Calif. 90210,
Foley Bros.,
By Joseph E. Foley,
228 South Fourth Street,
Las Vegas, Nevada 89101,
Attorneys for Appellants, MCA Artists,
Ltd. and Roy Gerber.
Parker & Son, Inc., Law Printers, Los Angeles. Phone MA. 6-9171.
---
archive.org Volume Name: govuscourtsca9briefs3360
Volume: http://archive.org/stream/govuscourtsca9briefs3360
Document Link: http://archive.org/stream/govuscourtsca9briefs3360#page/n178/mode/1up
Top Keywords (auto-generated):
bardy, gerber, 2d, mca, katleman, rep, 1959, pltf, april, conspiracy, contract, eve, vegas, la, las
Top Key Phrases (auto-generated):
las vegas, la nouvelle, nouvelle eve, extension contract, title la, la nue, nue eve, el rancho, folies bergere, mca artists, artists ltd., rancho vegas, agency contract, 9th cir., punitive damages
Document Status: UGLY