v3367-131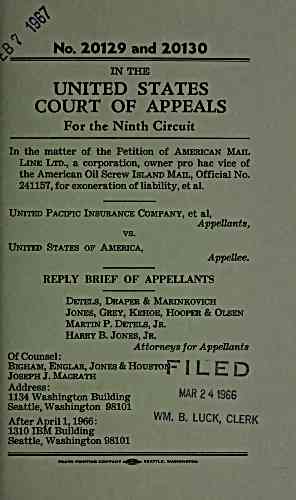 ^ No. 201 29 and 201 3
IN THE
UNITED STATES
COURT OF APPEALS
For the Ninth Circuit
In the matter of the Petition of American Mail
Line Ltd., a corporation, owner pro hac vice of
the American Oil Screw Island Mail, Official No.
241157, for exoneration of liability, et al.
United Pacific Insurance Company, et al.
Appellants,
vs.
United States of America,
Appellee,
REPLY BRIEF OF APPELLANTS
I"
Detels, Draper & Marinkovich
Jones, Grey, Kehoe, Hooper & Olsen
Martin P. Detels, Jr.
Harry B. Jones, Jr.
Attorneys for Appellants
Of Counsel:
Bigham, Englar, Jones & HousTOT f f__
Joseph J. Magrath * 5-.
1134 Washington Building MAR 2 4 1966
Seattle, Washington 98101
After April 1, 1966: ^^- ^' LUCK, CLERK
1310 IBM Building
Seattle, Washington 98101
INTING COMPANY v^^Siu SEATTLE. WASHINaTON
---
archive.org Volume Name: govuscourtsca9briefs3367
Volume: http://archive.org/stream/govuscourtsca9briefs3367
Document Link: http://archive.org/stream/govuscourtsca9briefs3367#page/n130/mode/1up
Top Keywords (auto-generated):
government, rock, mail, crocker, island, struck, cargo, gb, district, private, vessel, fathometer, miles, light, conway
Top Key Phrases (auto-generated):
island mail, private cargo, smith island, fathom curve, tort claims, mail struck, indian towing, island light, crocker struck, crocker casualty, agency discretion, definite warning, washington 98101, seattle washington, geodetic survey
Document Status: UGLY