v3427-197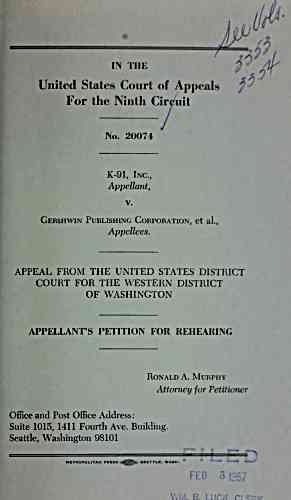 &
i
P'Jr
IN THE
United Slates Court of Appeals ; ^
For the Ninth Circuit
No. 20071
K-91, Inc.,
Appellant,
Gershwin Publishing Corporation, et al.,
Appellees.
APPEAL FROM THE UNITED STATES DISTRICT
COURT FOR THE WESTERN DISTRICT
OF WASHINGTON
APPELLANT'S PETITION FOR REHEAIUNG
Ronald A. Murphy
Attorney for Petitioner
Office and Post Office Addiess :
Suite 1015, 1411 Fourth Ave. Building.
Seattle, Washington 98101
METROPOLITAN PRESS 4Bh SCATTLC. WASH
o t9S7
V.'U. B. LUr.ii n: fpu-
---
archive.org Volume Name: govuscourtsca9briefs3427
Volume: http://archive.org/stream/govuscourtsca9briefs3427
Document Link: http://archive.org/stream/govuscourtsca9briefs3427#page/n196/mode/1up
Top Keywords (auto-generated):
ascap, licenses, inc, antitrust, washington, laws, 1948, piece, failed, consent, violations, supp, district, available, supra
Top Key Phrases (auto-generated):
piece licenses, antitrust laws, sesac inc., music enterprises, affiliated music, witmark sons, trenton potteries, loews inc., licenses available, jensen 80, copyrighted works, cascade broadcasting, blanket licenses, ascap 80, antitrust laws.
Document Status: UGLY