v3427-613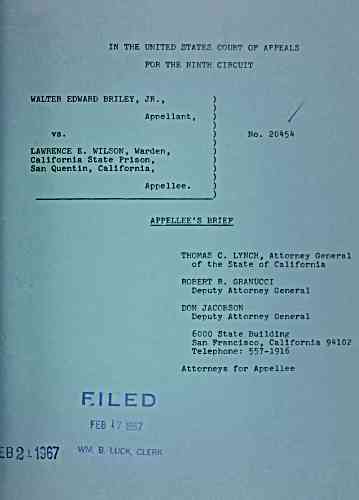 IN THE UNITED STATES COURT OP APPEALS
FOR THE NINTH CIRCUIT
WALTER EDWARD BRILEY, JR.,
Appellant,
vs .
LAWRENCE E. WILSON, Warden,
California State Prison,
San Quentin, California,
Appellee.
No. 20il5'4
APPELLEE'S BRIEF
THOMAS C. LYNCH, Attorney General
of the State of California
ROBERT R. GRANUCCI
Deputy Attorney General
DON JACOBSON
Deputy Attorney General
6000 State Building
San Francisco, California 9'*102
Telephone: 557-1916
Attorneys for Appellee
RILED
FEB ; C57
EB2i1967 ""
^ ^.Lt;s
---
archive.org Volume Name: govuscourtsca9briefs3427
Volume: http://archive.org/stream/govuscourtsca9briefs3427
Document Link: http://archive.org/stream/govuscourtsca9briefs3427#page/n612/mode/1up
Top Keywords (auto-generated):
2d, 9th, petition, california, clr, cir, plea, guilty, district, wilson, habeas, corpus, 1965, denied, san
Top Key Phrases (auto-generated):
9th clr., 9th cir., habeas corpus, san quentin, wilson warden, wilson ., webb 208, warden california, walter edward, quentin california, prison san, holland 366, granucci deputy, forma pauperis, edward briley
Document Status: UGLY