v3446-111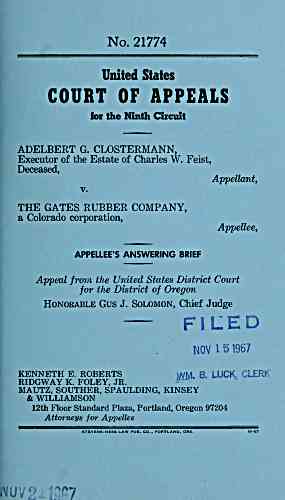 No. 21774
United States
COURT OF APPEALS
ior the Ninth Circuit
ADELBERT G. CLOSTERMANN,
Executor of the Estate of Charles W. Feist,
Deceased,
Appellant,
THE GATES RUBBER COMPANY,
a Colorado corporation,
Appellee,
APPELLEE'S ANSWERING BRIEF
Appeal from the United States Distnct Court
for the District of Oregon
Honorable Gus J. Solomon, Chief Judge
FILED
MOV 1 5 1967
KENNETH E. ROBERTS IMM B. UUCK, CLERK
RIDGWAY K. FOLEY, JR. -
MAUTZ, SOUTHER, SPAULDING, KINSEY
& WILLIAMSON
12th Floor Standard Plaza, Portland, Oregon 97204
Attorneys for Appellee
STEVENS-NESS LAW PUB. CO., PORTLAND. ORE.
ij- "^^'
'^ ^
---
archive.org Volume Name: govuscourtsca9briefs3446
Volume: http://archive.org/stream/govuscourtsca9briefs3446
Document Link: http://archive.org/stream/govuscourtsca9briefs3446#page/n110/mode/1up
Top Keywords (auto-generated):
1965, 656, ors, commission, employer, gates, 2d, accident, pi, feist, def, industrial, district, compensation, cir
Top Key Phrases (auto-generated):
industrial accident, 9th cir., accident commission, 1965 ., lla lld, hazardous occupation, iir15 iir15, iir15 pi., gates rubber, 1966 pi., tire exchange, late filing, accidental injury, january 31, beggs simpson
Document Status: UGLY