v3450-165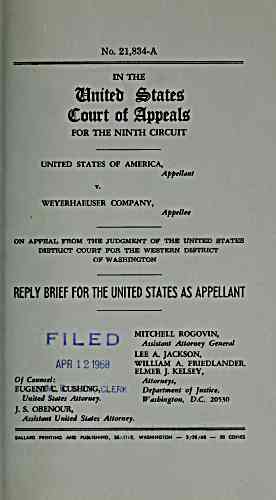 No. 21,834-A
IN THE
ftnitefa States
Court of gppeal*
FOR THE NINTH CIRCUIT
UNITED STATES OF AMERICA,
Appellant
WEYERHAEUSER COMPANY,
Appellee
ON APPEAL, FROM THE JUDGMENT OF THE UNITED STATES
DISTRICT COURT FOR THE WESTERN DISTRICT
OF WASHINGTON
REPLY BRIEF FOR THE UNITED STATES AS APPELLANT
F MITCHELL ROGOVIN,
La Em XmJ Assistant Attorney General
LEE A. JACKSON,
APR 1 2 1968 WILLIAM A. FRIEDLANDER.
ELMER J. KELSEY,
Of Counsel: Attorneys,
EUGENtf C CUSHING, _ERK Department of Justice,
United States Attorney. Washington, D.C. 20530
OBENOUR,
Assistant United States Attorney.
BAUARO PRINTING AND PUBLISHING, SE/ I i E, WASHINGTON 3/28/68 50 COPIES
---
archive.org Volume Name: govuscourtsca9briefs3450
Volume: http://archive.org/stream/govuscourtsca9briefs3450
Document Link: http://archive.org/stream/govuscourtsca9briefs3450#page/n164/mode/1up
Top Keywords (auto-generated):
1958, statute, taxpayer, property, losses, uninsured, congress, pre, income, wholly, coverage, amendment, language, phrase, inclusion
Top Key Phrases (auto-generated):
uninsured losses, pre 1958, wholly uninsured, 1958 statute, income producing, section 1231, producing property, 1958 congress, 1958 amendment, 1942 congress, fourth fifth, committee report, 1958 committee, sixth circuits, treasury regulations
Document Status: UGLY