v3450-705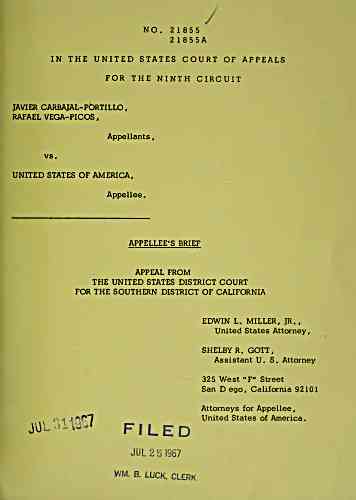 NO . 2 1855
2 1 855A
IN THE UNITED STATES COURT OF APPEALS
FOR THE NINTH CIRCUIT
JAVIER CARBAJAL-PORTILLO,
RAFAEL VEGA-PICOS ,
Appellants ,
vs.
UNITED STATES OF AMERICA,
Appellee.
APPELLEE'S BRIEF
APPEAL FROM
THE UNITED STATES DISTRICT COURT
FOR THE SOUTHERN DISTRICT OF CALIFORNIA
JUL WW FILED
JUL 2 5 1967
WM. B. LUCK. CLERK
EDWIN L. MILLER, JR.,
United States Attorney,
SHELBY R. GOTT,
Assistant U.S. Attorney
325 West "F" Street
San D ego, California 92101
Attorneys for Appellee ,
United States of America.
---
archive.org Volume Name: govuscourtsca9briefs3450
Volume: http://archive.org/stream/govuscourtsca9briefs3450
Document Link: http://archive.org/stream/govuscourtsca9briefs3450#page/n704/mode/1up
Top Keywords (auto-generated):
stolen, possession, car, automobile, lines, 2d, instruction, inference, government, 1967, presumption, transported, nevada, doubt, carbajal
Top Key Phrases (auto-generated):
motor vehicle, recently stolen, las vegas, unexplained possession, stolen property, 9th cir., interstate commerce, vegas nevada, proposed instruction, stolen automobile, interstate commerce., pre sentence, defen dant, sentence report, federal rules
Document Status: UGLY