v3454-449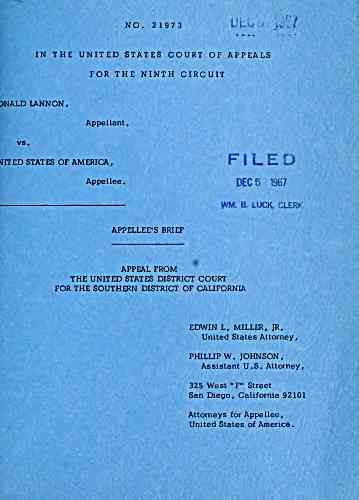 NO . 2 197 3
7
IN THE UNITED STATES COURT OF APPEALS
FOR THE NINTH CIRCUIT
DNALD LANNON ,
Appellant ,
vs.
TITED STATES OF AMERICA,
FILED
Appellee. QEC 5 1967
WM. B. LUCK, CLERK
APPELLEE'S BRIEF
APPEAL FROM
THE UNITED STATES DISTRICT COURT
FOR THE SOUTHERN DISTRICT OF CALIFORNIA
EDWIN L. MILLER, JR.
United States Attorney,
PHILLIP W. JOHNSON,
Assistant U.S. Attorney,
325 West "F" Street
San Diego, California 92101
Attorneys for Appellee,
United States of America.
---
archive.org Volume Name: govuscourtsca9briefs3454
Volume: http://archive.org/stream/govuscourtsca9briefs3454
Document Link: http://archive.org/stream/govuscourtsca9briefs3454#page/n448/mode/1up
Top Keywords (auto-generated):
cir, 2d, 9th, mougey, denied, cert, 1963, witnesses, vehicle, failure, officer, district, 1966, 1959, instruction
Top Key Phrases (auto-generated):
9th cir., cert denied, denied 375, southern district, san diego, jerry lynn, code sections, 1963 cert, 1962 cert, 1959 cert, sections 286, katherine mougey, johnson assistant, equally available, ed herreras
Document Status: UGLY