v3481-45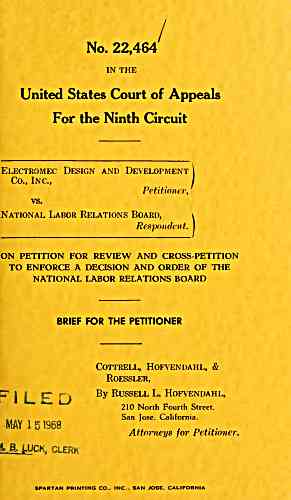 No. 22,464
IN THE
United States Court of Appeals
For the Ninth Circuit
Electromec Design and Development
Co., Inc., /
Petitioner,
vs.
National Labor Relations Board, v
Respondent. )
ON PETITION FOR REVIEW AND CROSS-PETITION
TO ENFORCE A DECISION AND ORDER OF THE
NATIONAL LABOR RELATIONS BOARD
BRIEF FOR THE PETITIONER
FILED
MAY 1 5 1968
LUjUck, clerk
Cottrell, Hofvendahl, &
Roessler,
By Russell L. Hofvendahl,
210 North Fourth Street.
San Jose, California,
Attorneys for Petitioner.
SPARTAN PRINTING CO., INC.. SAN JOSE. CALIFORNIA
---
archive.org Volume Name: govuscourtsca9briefs3481
Volume: http://archive.org/stream/govuscourtsca9briefs3481
Document Link: http://archive.org/stream/govuscourtsca9briefs3481#page/n44/mode/1up
Top Keywords (auto-generated):
petitioner, examiner, electromec, work, decision, employees, lines, saxer, walkout, employer, concerted, activity, labor, october, meeting
Top Key Phrases (auto-generated):
labor relations, national labor, concerted activity, work week, die makers, art clay, american art, saxer gilbert, gilbert mooney, efficient operation, metal shop, violated section, protected concerted, october 8th, elec tromec
Document Status: UGLY