v3481-575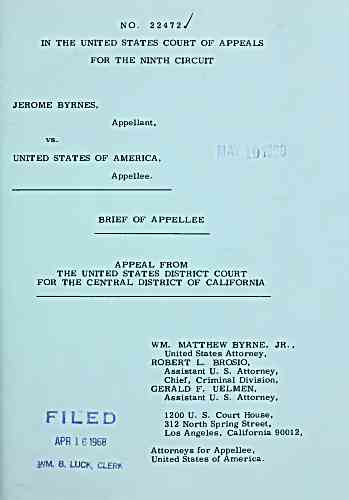 12 J
NO. 2 24
IN THE UNITED STATES COURT OF APPEALS
FOR THE NINTH CIRCUIT
JEROME BYRNES,
Appellant,
vs.
UNITED STATES OF AMERICA,
Appellee.
BRIEF OF APPELLEE
APPEAL FROM
THE UNITED STATES DISTRICT COURT
FOR THE CENTRAL DISTRICT OF CALIFORNIA
FILED
APR 1 S 1968
iWM. B. LUCK, CLERK
WM. MATTHEW BYRNE, JR. ,
United States Attorney,
ROBERT L. BROSIO,
Assistant U. S. Attorney,
Chief, Criminal Division,
GERALD F. UELMEN,
Assistant U. S. Attorney,
1200 U. S. Court House,
312 North Spring Street,
Los Angeles, California 90012,
Attorneys for Appellee,
United States of America.
---
archive.org Volume Name: govuscourtsca9briefs3481
Volume: http://archive.org/stream/govuscourtsca9briefs3481
Document Link: http://archive.org/stream/govuscourtsca9briefs3481#page/n574/mode/1up
Top Keywords (auto-generated):
federal, 2d, ollestad, section, cir, feres, claims, tallmadge, below, tort, title, remedy, weekend, district, simon
Top Key Phrases (auto-generated):
tort claims, federal tort, 9th cir., section 2679, coram nobis, weekend reservists, newly discovered, section 1346, los angeles, regular members, questions presented, motor vehicle, clarence mattos, william simon, tobacco tax
Document Status: UGLY