v3481-955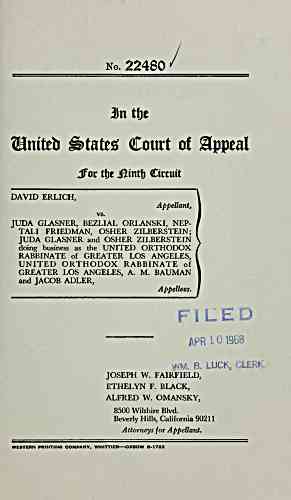 No. 22480
Hfntte
Winitth States Court of Sippeal
jFor tfje iintt Circuit
DAVID ERLICH,
vs.
JUDA GLASNER, BEZLIAL ORLANSKI, NEP-
TALI FRIEDMAN, OSHER ZILBERSTEIN;
JUDA GLASNER and OSHER ZILBERSTEIN
doing business as the UNITED ORTHODOX
RABBINATE of GREATER LOS ANGELES,
UNITED ORTHODOX RABBINATE of
GREATER LOS ANGELES, A. M. BAUMAN
and JACOB ADLER,
Appellees.
FILED
APR 1 1958 '
.A/M R LUCK. CLERK
JOSEPH W. FAIRFIELD,
ETHELYN F. BLACK,
ALFRED W. OMANSKY,
8500 Wilshire Blvd.
Beverly Hills, California 90211
Attorneys for Appellant.
WESTERN PRINTING COMPANY, WHITTIER OXBOW e0722
---
archive.org Volume Name: govuscourtsca9briefs3481
Volume: http://archive.org/stream/govuscourtsca9briefs3481
Document Link: http://archive.org/stream/govuscourtsca9briefs3481#page/n954/mode/1up
Top Keywords (auto-generated):
2d, glasner, kosher, rights, cir, food, erlich, corporation, california, code, civil, right, 9th, ed, meat
Top Key Phrases (auto-generated):
9th cir., civil rights, kosher food, penal code, coast poultry, 5th cir., judah glasner, glasner 274, code annotated, california penal, annotated title, kosher meat, non kosher, los angeles, greater los
Document Status: UGLY