v0044-103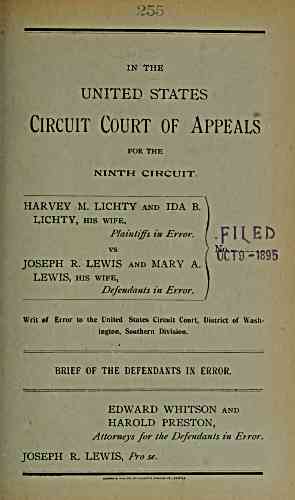 V^^iT
IN THE
UNITED STATES
Circuit Court of Appeals
FOR THE
NINTH CIRCUIT
HARVEY M. LICHTY and IDA B.
LICHTY, HIS WIFE,
Plaintiffs iit Error. I r 1 l E D
JOSEPH R. LEWIS AND MARY A.
LEWIS, HIS WIFE,
Defendants in Error.
Writ of Eiror to the United States Circuit Court, District of Wash-
ington, Southern Division.
BRIEF OF THE DEFENDANTS IN ERROR.
EDWARD WHITSON and
HAROLD PRESTON,
Attorneys for the Defendants in Error
JOSEPH R. LEWIS, Pro se.
---
archive.org Volume Name: govuscourtsca9briefs0044
Volume: http://archive.org/stream/govuscourtsca9briefs0044
Document Link: http://archive.org/stream/govuscourtsca9briefs0044#page/n102/mode/1up
Top Keywords (auto-generated):
husband, community, wife, property, title, interest, lichty, estate, washington, laws, deeds, lewis, lands, acquired, supreme
Top Key Phrases (auto-generated):
community property, husband alone, quitclaim deeds, hus band, community property., wash ington, property acquired, former adjudication., community propert, community estate, prop erty, partnership property, non resident, lichty acquired, guar dian
Document Status: UGLY