v0044-83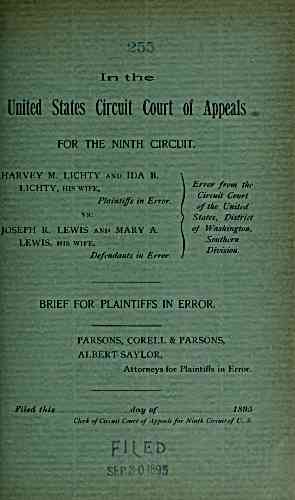 Iin time:
United States Circuit Court of Appeals
FOR THE NINTH CIRCUIT.
HARVKY M. LICHTY and IDA B.
LICHTY, HIS WIFE,
Plaintiffs in Error.
vs:
JOSEPH R. LEWIS and MARY A.
LEWIS, HIS WIFE,
Defendants in Error.
Error from the
Circuit Court
of the United
States, District
of Wash ington ,
Southern
Division.
BRIEF FOR PLAINTIFFS IN ERROR.
PARSONS, CORELL & PARSONS,
ALBERT- SAYLOR,
Attorneys for Plaintiffs in Pror
Filed this day of. 1895
Clerk of Circuit Court of Appeals for Ninth Circuit of U. S.
---
archive.org Volume Name: govuscourtsca9briefs0044
Volume: http://archive.org/stream/govuscourtsca9briefs0044
Document Link: http://archive.org/stream/govuscourtsca9briefs0044#page/n82/mode/1up
Top Keywords (auto-generated):
wife, husband, property, community, lewis, rights, statutes, lichty, right, married, washington, title, interest, joseph, former
Top Key Phrases (auto-generated):
community property, property rights, married woman, hus band, property laws, prop erty, personal property, parsons corell, parsons albert, married women, corell parsons, community property., communit property, albert saylor, zvife joins
Document Status: UGLY