v0091-694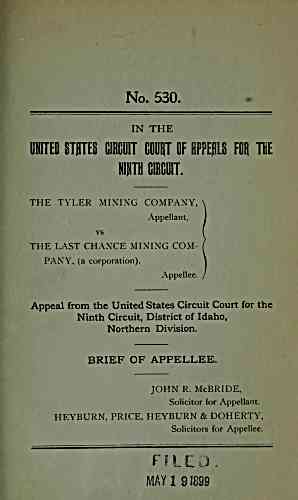 No. 530.
IN THE
ONITEO STilTES GieCDlT GOUBT OF BPFELS FOR THE
NINTH GIBGDIT.
THE TYLER MINING COMPANY,
Appellant,
THE LAST CHANCE MINING COM-
PANY, (a corporation),
Appellee.
Appeal from the United States Circuit Court for the
Ninth Circuit, District of Idaho,
Northern Division.
BRIEF OF APPELLEE.
JOHN R. McBRIDE,
Solicitor for Appellant.
HEYBURN, PRICE, HEYBURN & DOHERTY,
Solicitors for Appellee.
F f L E .)
MAY 1 9 1899
---
archive.org Volume Name: govuscourtsca9briefs0091
Volume: http://archive.org/stream/govuscourtsca9briefs0091
Document Link: http://archive.org/stream/govuscourtsca9briefs0091#page/n693/mode/1up
Top Keywords (auto-generated):
item, mining, tyler, march, injunction, allowed, damages, bond, liability, heyburn, former, costs, property, peal, master
Top Key Phrases (auto-generated):
tyler mining, march ith., chance mining, price heyburn, march 6th, justice field, idaho northern, heyburn price, heyburn doherty, doherty solicitors, damages allowed, wages amounted, tyler min, tyler 1xixg, trans crijit
Document Status: UGLY