v0181-377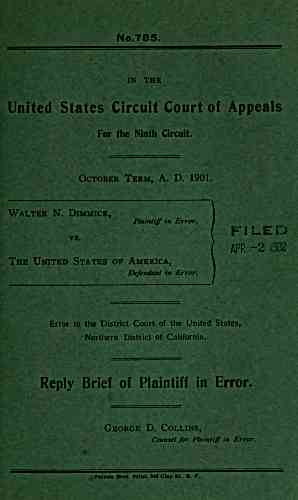 No.785.
IN THE
United States Circuit Court of Appeals
For the Ninth Circuit.
October Term, A. D. 1901,
Walter N. Dimmick,
Plaintiff in Error,
VS.
Fi L.ED
APR -2 i3Q2
The United States of America,
Defendant in Error.
Error to the District Court of the United States,
Northern District of California.
Reply Brief of Plaintiff in Error.
George D. Collins,
Counsel for Plaintiff in Error.
Pernnu Bros. Print, 548 Clay St.. S. F.
---
archive.org Volume Name: govuscourtsca9briefs0181
Volume: http://archive.org/stream/govuscourtsca9briefs0181
Document Link: http://archive.org/stream/govuscourtsca9briefs0181#page/n376/mode/1up
Top Keywords (auto-generated):
count, payment, money, paid, false, indictment, fraudulent, crime, prosecution, presented, fictitious, statute, selby, genuine, cole
Top Key Phrases (auto-generated):
false fraudulent, count charges, bona fide, revised statutes, fourth count, selby smelting, valid genuine, false fictitious, section 5438, previously paid, fourth count., section 5497, flagrant violation, violates section, pre sented
Document Status: UGLY