v0264-431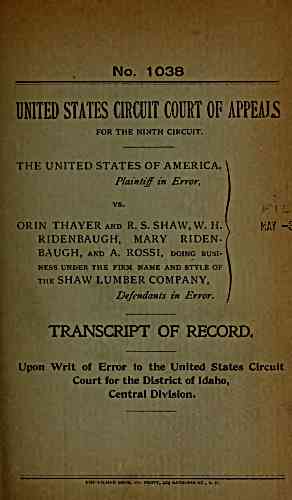 No. 1038
UNITED STATES CIRCUIT COURT OF APPEALS
FOR THE NINTH CIRCUIT.
THE UNITED STATES OF AMERICA,
Plaintiff in Error,
vs.
ORIN THAYER and R. S. SHAW, W. H.
RIDENBAUGH, MARY RIDEN-
BAUGH, and A. ROSSI, doing busi-
ness UNDER THE FIRM NAME AND STYLE OF
the SHAW LUMBER COMPANY,
Defendants in Error.
MAY -i
TRANSCRIPT OF RECORD.
Upon Writ of Error to the United States Circuit
Court for the District of Idaho,
Central Division.
THE 1 -II.MKK UROS. CO. I'KINT, 424 SANSOMH ST., S. P.
---
archive.org Volume Name: govuscourtsca9briefs0264
Volume: http://archive.org/stream/govuscourtsca9briefs0264
Document Link: http://archive.org/stream/govuscourtsca9briefs0264#page/n430/mode/1up
Top Keywords (auto-generated):
creek, thayer, timber, mineral, land, cut, mining, lands, orin, country, shaw, idaho, grimes, boise, ground
Top Key Phrases (auto-generated):
orin thayer, grimes creek, clear creek, shaw lumber, moores creek, rye flat, mineral land, ridenbaugh mary, boise basin, mining claims, mary ridenbaugh, busi ness, mining ground, riden baugh, fremont wood
Document Status: UGLY