v0264-635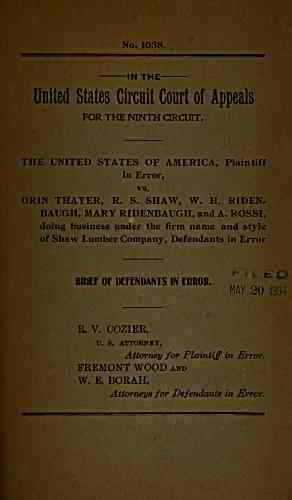 No. 1038.
IN THE
United States Circuit Court of Appeals
FOR THE NINTH CIRCUIT.
THE UNITED STATES OF AMERICA, Plaintiff
in Error,
vs.
ORIN THAYER, R. S. SHAW, W. H. RIDEN-
BAUGH, MARY RIDENBAUGH, and A. ROSSI,
doing business under the firm name and style
of Shaw Lumber Company, Defendants in Error
BRIEf OF DEFENDANTS IN ERROR.
MAY 20
COZIER,

ATTORNEY,
Attorney for Plaintiff in Error.
FREMONT WOOD and
BORAH,
Attorneys for Defendants in Error.
---
archive.org Volume Name: govuscourtsca9briefs0264
Volume: http://archive.org/stream/govuscourtsca9briefs0264
Document Link: http://archive.org/stream/govuscourtsca9briefs0264#page/n634/mode/1up
Top Keywords (auto-generated):
mineral, timber, lands, mining, cut, miles, land, cutting, mines, country, 1878, instructions, congress, june, domestic
Top Key Phrases (auto-generated):
mineral lands, remove timber, mineral regions, mineral lands., grimes creek, bona fide, boise basin, public lands, mining districts, mineral claims, cut timber, char acter, van winkle, un der, timber lands
Document Status: UGLY