v0310-7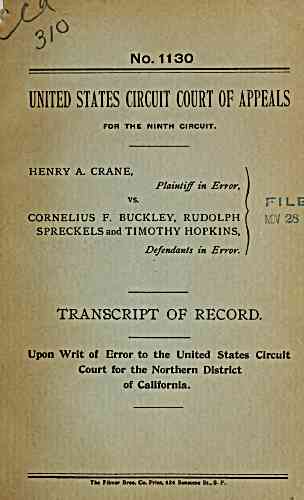 No. 1130
UNITED STATES CIRCOIT COURT OF APPEALS
FOR THE NINTH CIRCUIT.
HENRY A. CRANE,
Plaintiff in Errors
vs. f FILE
CORNELIUS F. BUCKLEY, RUDOLPH ( .:ny 28
SPRECKELS and TIMOTHY HOPKINS,
Defendants in Error.
TRANSCRIPT OF RECORD.
Upon Writ of Error to the United States Circuit
Court for the Northern District
of California.
The Fllmer Broi. Co. Print, 424 Saniome St., S- F.
---
archive.org Volume Name: govuscourtsca9briefs0310
Volume: http://archive.org/stream/govuscourtsca9briefs0310
Document Link: http://archive.org/stream/govuscourtsca9briefs0310#page/n6/mode/1up
Top Keywords (auto-generated):
buckley, crane, 1899, henry, cornelius, november, california, property, premises, water, january, bond, district, occupation, land
Top Key Phrases (auto-generated):
november 1899, january 1899, northern district, san francisco, timothy hopkins, rudolph spreckels, southern district, november 1899., beaizley deputy, water pumps, southard hoffman, water ditches, water rights, ditches water, buckley ru
Document Status: UGLY