v0423-378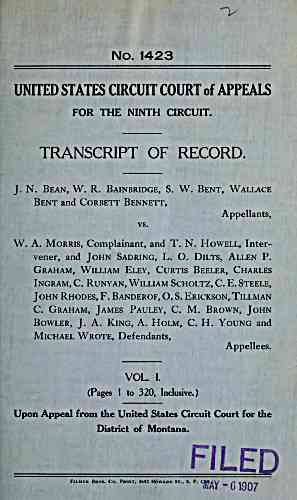 -v
No. 1423
UNITED STATES CIRCUIT COURT of APPEALS
FOR THE NINTH CIRCUIT.
TRANSCRIPT OF RECORD.
Bean, W. R. Bainbridge, S. W. Bent, Wallace
Bent and Corbett Bennett,
Appellants,
vs.
Morris, Complainant, and T. N. Howell, Inter-
vener, and John Sadring, L. O. Diets, Allen P.
Graham, William Eley, Curtis Beeler, Charles
Ingram, C. Runyan, William Scholtz, C. E. Steele,
John Rhodes, F. Banderof, O. S. Erickson, Tillman
Graham, James Pauley, C. M. Brown, John
Bowler, J. A. King, A. Holm, C. H. Young and
Michael Wrote, Defendants,
Appellees.
VOL. I.
(Pages 1 to 320, Inclusive.)
Upon Appeal from the United States Circuit Court for the
District of Montana.
FILED
FiLMER Bros. Co. Print. 1642 Howard St.. S. F.
TOY - G 1907
---
archive.org Volume Name: govuscourtsca9briefs0423
Volume: http://archive.org/stream/govuscourtsca9briefs0423
Document Link: http://archive.org/stream/govuscourtsca9briefs0423#page/n377/mode/1up
Top Keywords (auto-generated):
water, creek, morris, sage, waters, lands, howell, bean, ditch, int, montana, bent, land, william, right
Top Key Phrases (auto-generated):
sage creek, wallace bent, bert bent, water right, michael wrote, piney creek, bent wallace, corbett bennett, complainant william, william eley, john sadring, crane master, bean john, john rhodes, james pauley
Document Status: UGLY