v0423-810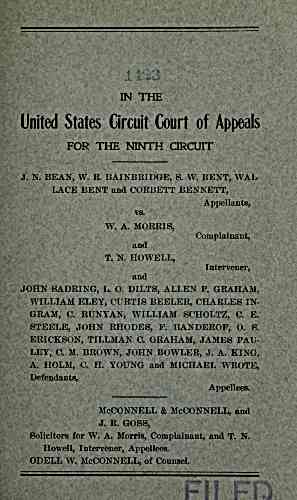 IN THE
United States Circuit Court of Appeals
FOR THE NINTH CIRCUIT
BEAN, W. R. BAINBRIDGE, S. W. BENT, WAL
LACE BENT and CORBETT BENNETT,
Appellants,
vs.
MORRIS,
Complainant,
and
HOWELL,
Intervener,
and
JOHN SADRING, L. O. DILTS, ALLEN P. GRAHAM,
WILLIAM ELEY, CURTIS BEELER, CHARLES IN-
GRAM, C. RUNYAN, WILLIAM SCHOLTZ, C. E.
STEELE, JOHN RHODES, F. BANDEROF, O. S.
ERICKSON, TILLMAN C. GRAHAM, JAMES PAIJ
LEY, C. M. BROWN, JOHN BOWLER, J. A. KING,
HOLM, C. H. YOUNG and MICHAEL WROTE,
Defendants,
Appellees.
McCONNELL & McCONNELL, and
GOSS,
Solicitors for W. A. Morris, Complainant, and T. N.
Howell, Intervener, Appellees.
ODELL W. McCONNELL, of Counsel.
5- ^ '
---
archive.org Volume Name: govuscourtsca9briefs0423
Volume: http://archive.org/stream/govuscourtsca9briefs0423
Document Link: http://archive.org/stream/govuscourtsca9briefs0423#page/n809/mode/1up
Top Keywords (auto-generated):
water, right, rights, howell, waters, creek, morris, wyoming, stream, appropriation, complainant, sage, montana, intervener, riparian
Top Key Phrases (auto-generated):
sage creek, water right, riparian rights, water rights, interstate stream, intervener howell, water right., miners inches, inter vener, defend ants, complainant morris, complain ant, sage creek., riparian right, riparian rights.,
Document Status: UGLY