v0590-7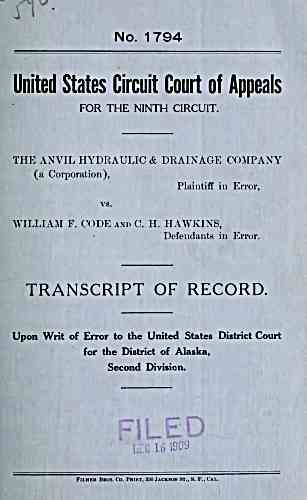 V.-J -v/
No. 1794
United States Circuit Court of Appeals
FOR THE NINTH CIRCUIT.
THE ANVIL HYDRAULIC & DRAINAGE COMPANY
(a Corporation),
Plaintiff in Error,
vs.
WILLIAM F. CODE and C. H. HAWKINS,
Defendants in Error.
TRANSCRIPT OF RECORD.
Upon Writ of Error to the United States District Court
for the District of Alaska,
Second Division.
_J U 1909
FiLMEK Bros. Co. Print, 330 Jackson St., S. F., Cal.
---
archive.org Volume Name: govuscourtsca9briefs0590
Volume: http://archive.org/stream/govuscourtsca9briefs0590
Document Link: http://archive.org/stream/govuscourtsca9briefs0590#page/n6/mode/1up
Top Keywords (auto-generated):
drain, ground, district, water, alaska, anvil, drainage, creek, code, hydraulic, work, holyoke, frozen, mining, nome
Top Key Phrases (auto-generated):
anvil hydraulic, hydraulic drainage, frozen ground, holyoke creek, bourbon creek, nome mining, thawed ground, placer mining, cape nome, nome alaska, april 1906, lucky fraction, bourbon creek., frozen ground., assessment work
Document Status: UGLY