v0594-225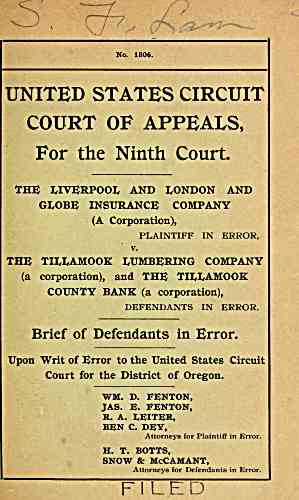 %
7 '^ ../ r^. .-a^--^-
No. 1806.
UNITED STATES CIRCUIT
COURT OF APPEALS,
For the Ninth Court.
THE WVBRPOOL AND IONDON AND
GI/OBB INSURANCE COMPANY
(A Corporation),
PLAINTIFF IN ERROR,
THE TII,IAMOOK I.UMBERING COMPANY
(a corporation), and THE TII,I,AMOOK
COUNTY BANK (a corporation),
DEFENDANTS IN ERROR.
Brief of Defendants in Error.
upon Writ of Error to the United States Circuit
Court for the District of Oregon.
WM. D. FENTON,
JAS. B. FENTON,
IKITBR,
BEN C. DEY,
Attorneys for Plaintiff in Brror.
BOTTS,
SNOW & McCAMANT,
Attorneys for Defendants in Error.
FILED
---
archive.org Volume Name: govuscourtsca9briefs0594
Volume: http://archive.org/stream/govuscourtsca9briefs0594
Document Link: http://archive.org/stream/govuscourtsca9briefs0594#page/n224/mode/1up
Top Keywords (auto-generated):
watchman, policy, night, mill, idle, language, insured, fire, clause, plant, warranty, insurance, construction, contract, works
Top Key Phrases (auto-generated):
watchman clause, plant insured, night watchman, lunch hour, lan guage, 89 pac., 150 cal., sunday night, remain idle, promissory warranty, phoenix ins., ordi nary, once become, odd hour, metcalf 53,
Document Status: UGLY