v0614-7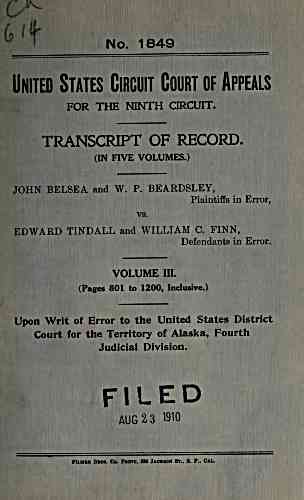 J^^
G't
No. 1849
United States Circuit Court of Appeals
FOR THE NINTH CIRCUIT-
TRANSCRIPT OF RECORD.
(IN FIVE VOLUMES.)
JOHN BELSEA and W. P. BEARDSLEY,
Plaintiffs in Error,
vs.
EDWARD TINDALL and WILLIAM C. FINN,
Defendants in Error.
VOLUME III.
(Pages 801 to 1200, Inclusive.)
Upon Writ of Error to the United States District
Court for the Territory of Alaska, Fourth
Judicial Division.
FILED
AUG 2 3 1910
PILMBR BEOS. Co. PaiNT, 390 jAOKiON ST.. 3. F.. CL.
---
archive.org Volume Name: govuscourtsca9briefs0614
Volume: http://archive.org/stream/govuscourtsca9briefs0614
Document Link: http://archive.org/stream/govuscourtsca9briefs0614#page/n6/mode/1up
Top Keywords (auto-generated):
shaft, ground, pan, tindall, work, finn, right, dirt, john, map, creek, beardsley, william, belsea, edward
Top Key Phrases (auto-generated):
john belsea, edward tindall, ester creek, right limit, edward tyndall., john fay., placer mining, map attached, edtvard tindall, lower end, tindall affidavit, john jbelsea, square foot, right limit., boiler house
Document Status: UGLY