v0632-291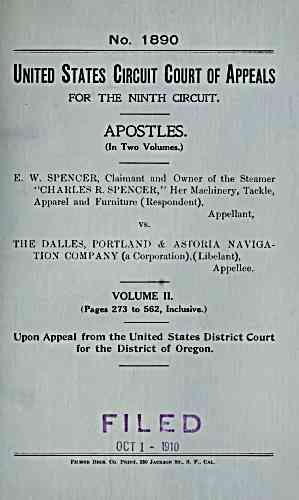 No. 1890
United States Circuit Court of Appeals
FOR THE NINTH CIRCUIT.
APOSTLES.
(In Two Volumes.)
SPENCER, Claimant and Owner of the Steamer
"CHARLES R. SPENCER," Her Machinery, Tackle,
Apparel and Furniture (Respondent),
Appellant,
vs.
THE DALLES, PORTLAND & ASPORTA NAVIGA-
TION COMPANY (a Corporation), (Libelant),
Appellee.
VOLUME II.
(Pages 273 to 562, Inclusive.)
Upon Appeal from the United States District Court
for the District of Oregon.
FILED
OCT 1 - 1910
FiLMBK Bros. Co. Print. 380 Jackson St.. 3. F.. Cal.
---
archive.org Volume Name: govuscourtsca9briefs0632
Volume: http://archive.org/stream/govuscourtsca9briefs0632
Document Link: http://archive.org/stream/govuscourtsca9briefs0632#page/n290/mode/1up
Top Keywords (auto-generated):
spencer, dalles, city, boat, right, river, wheel, whistle, collision, starboard, portland, port, shore, linnton, saw
Top Key Phrases (auto-generated):
dalles city, dalles portland, astoria nav., danger signal, portland astoria, linnton shore, pilot house, dalles city., spen cer, steam vessels., julius allyn., captain spencer, engine room, spencer blew, collision occurred
Document Status: UGLY