v0637x-169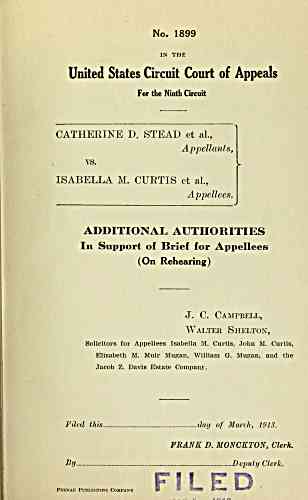 No. 1899
IN THE
United States Circuit Court of Appeals
For the Ninth Circuit
CATHERINE D. STEAD et al.,
Appellants,
vs.
ISABELLA M. CURTIS et al.,
Appellees.
ADDITIONAL AUTHORITIES
In Support of Brief for Appellees
(On Rehearing)
Campbell,
Walter Shelton,
Solicitors for Appellees Isabella M. Curtis, John M. Curtis,
Elizabeth M. Muir Mugan, William G. Mugan, and the
Jacob Z. Davis Estate Company.
Filed this day of March, 1913.
FRANK D. MONCKTON, Clerk.
By Deputy Clerk.
FILED
Pehnau Puislisitinc Company
r w r
---
archive.org Volume Name: govuscourtsca9brief0637x
Volume: http://archive.org/stream/govuscourtsca9brief0637x
Document Link: http://archive.org/stream/govuscourtsca9brief0637x#page/n168/mode/1up
Top Keywords (auto-generated):
curtis, mugan, isabella, support, rehearing, knowledge, inquiry, fraud, estate, diligence, william, walter, stead, solicitors, shelton
Top Key Phrases (auto-generated):
walter shelton, shelton solicitors, muir mugan, mugan william, davis estate, curtis john, curtis elizabeth, campbell walter, additional authorities, standard mining, sonable diligence, smith 79, sections 70, sabin 53, rigid compliance
Document Status: UGLY