v0637x-7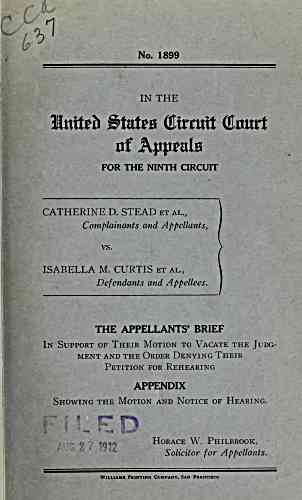 C 1
a
No. 1899
IN THE
Htttirt* States (Etrattt (Emtrf
of Appeals
FOR THE NINTH CIRCUIT
CATHERINE D. STEAD et al.,
Complainants and Appellants,
vs.
ISABELLA M. CURTIS et al.,
Defendants and Appellees.
THE APPELLANTS' BRIEF
In Support of Their Motion to Vacate the Judg-
ment and the Order Denying Their
Petition for Rehearing
APPENDIX
Showing the Motion and Notice of Hearing.
Horace W. Philbrook,
Solicitor for Appellants.
Williams Printing Company, San Francisco
---
archive.org Volume Name: govuscourtsca9brief0637x
Volume: http://archive.org/stream/govuscourtsca9brief0637x
Document Link: http://archive.org/stream/govuscourtsca9brief0637x#page/n6/mode/1up
Top Keywords (auto-generated):
rehearing, petition, term, right, grounds, 1911, discretion, power, expressly, decision, rendered, overlooked, denying, archbishop, aside
Top Key Phrases (auto-generated):
wholly overlooked, appellate courts, san francisco, judgments decrees, independent grounds, entire argument, conrad 91, appel lants, 91 va., supplemental decision, self evident, pretended probate, philbrook solicitor, overlooked grounds, ordway 101,
Document Status: UGLY