v0639-313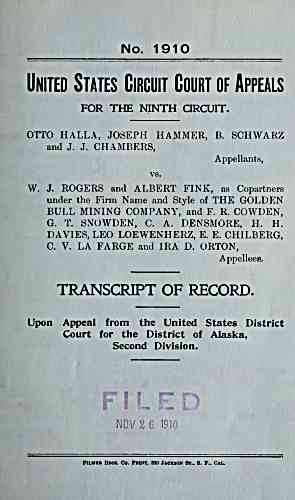 No. 1910
United States Circuit Court of Appeals
FOR THE NINTH CIRCUIT.
OTTO HALLA, JOSEPH HAMMER, B. SCHWARZ
and J. J. CHAMBERS,
Appellants,
vs.
ROGERS and ALBERT FINK, as Copartners
under the Firm Name and Style of THE GOLDEN
BULL MINING COMPANY, and F. R. COWDEN,
SNOWDEN, C. A. DENSMORE, H. H.
DAVIES, LEO LOEWENHERZ, E. E. CHILBERG,
LA FAROE and IRA D. ORTON,
Appellees.
TRANSCRIPT OF RECORD.
Upon Appeal from the United States District
Court for the District of Alasla,
Second Division.
NOV 2 6 1910
FILMBR BBOS. Co. PBIKT, 330 JACKSON ST.. S. K.. CAL.
---
archive.org Volume Name: govuscourtsca9briefs0639
Volume: http://archive.org/stream/govuscourtsca9briefs0639
Document Link: http://archive.org/stream/govuscourtsca9briefs0639#page/n312/mode/1up
Top Keywords (auto-generated):
mining, district, halla, otto, alaska, premises, golden, bull, rogers, fink, answering, lease, schwarz, bruner, albert
Top Key Phrases (auto-generated):
otto halla, golden bull, albert fink, bull mining, joseph hammer, placer mining, bon voyage, halla joseph, potter whittren, elwood bruner, andrew eadie, davies leo, allison bruner, voyage placer, nome alaska
Document Status: UGLY