v0639-423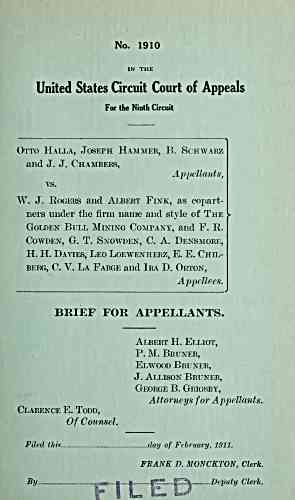 No. 1910
United States Circuit Court of Appeals
For the Ninth Circuit
Otto Halla, Joseph Hammer, B. Schwarz
and J. J. Chambers,
Appellants,
vs.
Rogers and Albert Fink, as copart-
ners under the firm name and style of The
Golden Bull Mining Company, and F. E.
CowDEN, G. T. Snowden, C. a. Densmore,
Davies, Leo Loewenherz, E. E. Chil-
BERG, C. V. La Faroe and Ira D. Orton,
Appellees.
BRIEF FOR APPELLANTS.
Clarence E. Todd,
Of Counsel.
Albert H, Elliot,
Bruner,
Elwood Bruner,
Allison Bruner,
George B. Grigsby,
Attorneys for Appellants.
Filed this..
By..
day of February, 1911.
FRANK D. MONCKTON, Clerk.
Deputy Clerk.
---
archive.org Volume Name: govuscourtsca9briefs0639
Volume: http://archive.org/stream/govuscourtsca9briefs0639
Document Link: http://archive.org/stream/govuscourtsca9briefs0639#page/n422/mode/1up
Top Keywords (auto-generated):
lease, injunction, work, forfeiture, premises, mining, possession, contract, assessment, property, lessee, tenant, labor, 1910, lessors
Top Key Phrases (auto-generated):
assessment work, pendente lite, silver peak, october 1910, mining property, lessors trans, lessors expire, injunction pendente, golden bull, bull mining, become forfeit, written contract, un der, ruary 26, quartz mill
Document Status: UGLY