v0656-7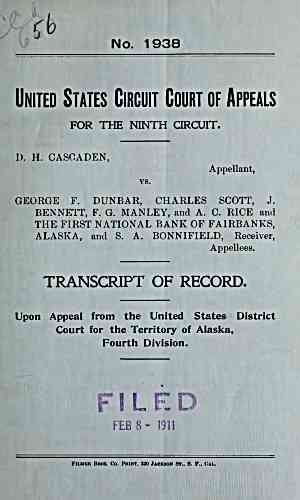 No. 1938
United States Circuit Court of Appeals
FOR THE NINTH CIRCUIT*
CASCADEN,
Appellant,
vs.
GEORGE F. DUNBAR, CHARLES SCOTT, J.
BENNETT, F. G. MANLEY, and A. C. RICE and
THE FIRST NATIONAL BANK OF FAIRBANKS,
ALASKA, and S. A. BONNIFIELD, Receiver,
Appellees.
TRANSCRIPT OF RECORD.
Upon Appeal from the United States District
Court for the Territory of Alaska,
Fourth Division.
FEB 8 - 1911
FiLMER Bros. Co. Print. 330 Jackson St., S. F.. Cal.
---
archive.org Volume Name: govuscourtsca9briefs0656
Volume: http://archive.org/stream/govuscourtsca9briefs0656
Document Link: http://archive.org/stream/govuscourtsca9briefs0656#page/n6/mode/1up
Top Keywords (auto-generated):
gold, bonnifield, cascaden, interest, dunbar, dust, mcginn, creek, bank, lay, alaska, george, ground, mining, journel
Top Key Phrases (auto-generated):
gold dust, national bank, placer mining, below discovery, fairbanks alaska, cleary creek, creek placer, right title, right limit, humes brothers, 12a below, henry riley, bonni field, charles scott, andrew clement
Document Status: UGLY