v0677-765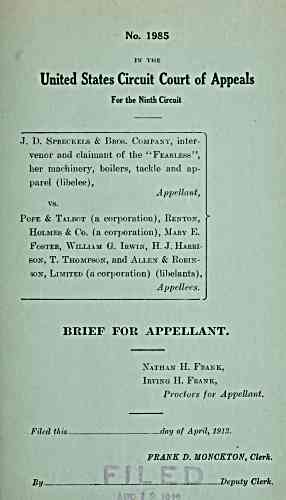 No. 1985
IN THE
United States Circuit Court of Appeals
For the Ninth Circuit
Spreckei^ & Bros. Company, inter-
venor and claimant of the "Fearless",
her machinery, boilers, tackle and ap-
parel (libelee),
Appellant,
vs.
Pope & Talbot (a corporation), Renton,
Holmes & Co. (a corporation), Maky E.
Foster, William G. Irwin, H. J. Harri-
son, T. Thompson, and Allen. & Robin-
son, Limited (a corporation) (libelants),
Appellees.
BRIEF FOR APPELLANT,
Nathan H. Frank,
Irving H. Frank,
Proctors for Appellant.
Filed this day of April, 1912.
FRANK D. MONCKTON, Clerk.
By......
Deputy Clerk.
---
archive.org Volume Name: govuscourtsca9briefs0677
Volume: http://archive.org/stream/govuscourtsca9briefs0677
Document Link: http://archive.org/stream/govuscourtsca9briefs0677#page/n764/mode/1up
Top Keywords (auto-generated):
tug, tow, dredge, negligence, fearless, libel, foster, channel, vessel, master, care, boat, stranding, duty, dredger
Top Key Phrases (auto-generated):
tug fearless, canal boat, public policy, pontoon bridge, dredge pacific, double tow, captain oleson, vessel stern, steam tug, son limited, robin son, pope talbot, pontoon boats, passing vessels, parel libelee
Document Status: UGLY