v0687-387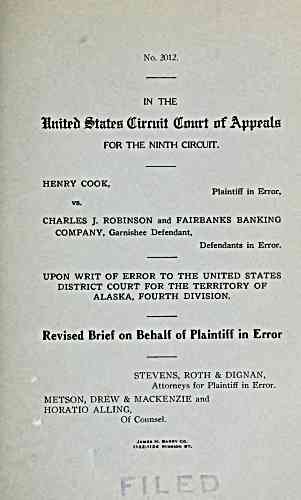 No. 2012.
IN THE
Mtttlfi Btalrs Oltnrmt (Hmvt of Appalsi
FOR THE NINTH CIRCUIT.
HENRY COOK,
Plaintiff in Error,
vs.
CHARLES J. ROBINSON and FAIRBANKS BANKING
COMPANY, Garnishee Defendant,
Defendants in Error.
UPON WRIT OF ERROR TO THE UNITED STATES
DISTRICT COURT FOR THE TERRITORY OF
ALASKA, FOURTH DIVISION.
Revised Brief on Behalf of Plaintiff in Error
STEVENS, ROTH & DIGNAN,
Attorneys for Plaintiff in Error.
METSON, DREW & MACKENZIE and
HORATIO ALLING,
Of Counsel.
JAMES H. BARRY CO.
Il23-tl24 MISSION ST.
---
archive.org Volume Name: govuscourtsca9briefs0687
Volume: http://archive.org/stream/govuscourtsca9briefs0687
Document Link: http://archive.org/stream/govuscourtsca9briefs0687#page/n386/mode/1up
Top Keywords (auto-generated):
robinson, bank, gold, dust, garnishee, howard, howards, deposit, money, jackson, banking, fairbanks, garnishment, 1910, proceeds
Top Key Phrases (auto-generated):
gold dust, fairbanks banking, robin son, rob inson, nulla bona, july 1910, alice howard, gold dust., gar nishee, en tering, capital stock, banks banking, october 1910, fair banks, chattel mortgage
Document Status: UGLY