v0687-449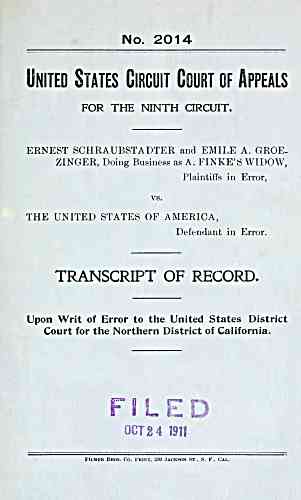 No. 2014
United States Circuit Court of Appeals
FOR THE NINTH CIRCUIT.
ERNEST SCHRAUBSTADTER and EMILE A. GROE-
ZINGER, Doing Business as A. FINK:E'S WIDOW,
Plaintiffs in Error,
vs.
THE UNITED STATES OF AMERICA,
Defendant in Error.
TRANSCRIPT OF RECORD.
Upon Writ of Error to the United States District
Court for the Northern District of California.
OCT 2 4 1911
FiLMER Bros. Co. Print. 330 Jackson St.. S. F., Cal.
---
archive.org Volume Name: govuscourtsca9briefs0687
Volume: http://archive.org/stream/govuscourtsca9briefs0687
Document Link: http://archive.org/stream/govuscourtsca9briefs0687#page/n448/mode/1up
Top Keywords (auto-generated):
champagne, wine, california, district, ernest, bottle, schraubstadter, emile, wines, groezinger, pier, business, schlesinger, gould, label
Top Key Phrases (auto-generated):
ernest schraubstadter, northern district, california champagne, ernest schrauhstadter, cham pagne, san francisco, paul masson, emile august, imported champagne, indictment fails, extra dry, august groezinger., bottle fermented, sparkling wine, scott deputy
Document Status: UGLY