v0687-629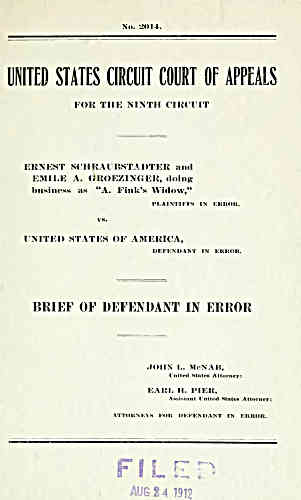 No. 2014.
ilTED STATES CIRCUIT COURT OF APPEALS
FOK THE NINTH CIKCTIT
ERNEST SCHRAUBSTADTER ami
EMILE A. OROEZINGER, doing
business as "A. Fink's Widow,"
PLAINTIFFS IN KKROK,
UNITED STATES OF AMERICA,
DEFENDANT IN ERKOR.
BRIEF OF DEFENDANT IN ERROR
JOHN L. McNAB,
Uiiitt'd States Attorney;
EAKL H. PIER,
Assistant United States Attorney;
ATTORNEYS FOR DEFENDANT IN ERROR.
FILE
AUG 2 4 1912
---
archive.org Volume Name: govuscourtsca9briefs0687
Volume: http://archive.org/stream/govuscourtsca9briefs0687
Document Link: http://archive.org/stream/govuscourtsca9briefs0687#page/n628/mode/1up
Top Keywords (auto-generated):
indictment, champagne, offense, count, wine, food, decided, counts, pure, forth, sentence, imposed, fine, conviction, california
Top Key Phrases (auto-generated):
pure food, june 30th, ernest schraubstadter, cham pagne, california champagne, bottles afore, mis branded, main label, extra dry, cumulative sentences, count charges, 30th 1906, wine produced, wine artificially, single fine
Document Status: UGLY