v0688-581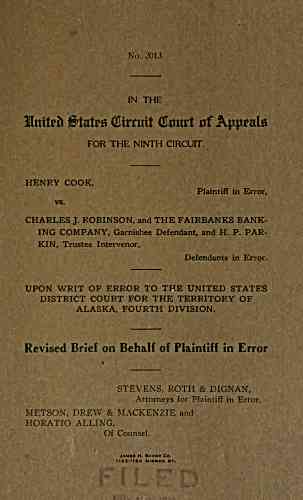 Xo. 2013.
JN THE
United BUUb (Hircmt filourt nfKpvmh
FOR THE NINTH CIRCUIT.
HENRY COOK,
Plaintiff in Error,
vs.
CHARLES J. ROBINSON, and THE FAIRBANKS BANK-
ING COMPANY, Garnishee Defendant, and H. P. PAR-
KIN, Trustee Intervenor,
Defendants in Error.
UPON WRIT OF ERROR TO THE UNITED STATES
DISTRICT COURT FOR THE TERRITORY OF
ALASKA, FOURTH DIVISION.
Revised Brief on Behalf of Plaintiff in Error
STEVENS, ROTH & DIGNAN,
Attorneys for Plaintiff in Error,
METSON, DREW & MACKENZIE and
HORATIO ALLING,
Of Counsel.
JAMKB H. BARMT Co.
t l22-n24 Ml((ieM ST.
---
archive.org Volume Name: govuscourtsca9briefs0688
Volume: http://archive.org/stream/govuscourtsca9briefs0688
Document Link: http://archive.org/stream/govuscourtsca9briefs0688#page/n580/mode/1up
Top Keywords (auto-generated):
robinson, property, attachment, bankruptcy, ground, 1910, claims, bankrupt, market, erred, interest, valuation, mining, levy, charles
Top Key Phrases (auto-generated):
dome creek, fair valuation, fourth interest, rob inson, robin son, ob jection, square foot, evi dence, dave thomas, august 4th, august 1910, below discovery, bank ruptcy, placer mining, gold bearing
Document Status: UGLY