v0749-5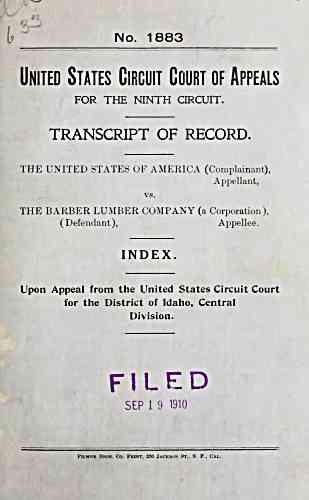 I; No. 1883
United States Circuit Court of Appeals
FOR THE NINTH CIRCUIT.
TRANSCRIPT OF RECORD.
THE UNITED STATES OF AMERICA (Complainant),
Appellant,
vs.
THE BARBER LUMBER C(3MPANY (a Corporation),
(Defendant), Appellee.
INDEX.
Upon Appeal from the United States Circuit Court
for the District of Idaho, Central
Division.
FILED
SEP 1 9 1910
KiLMKR Hros. Co. Print. 330 Jackson St.. S. F.. Cal.
---
archive.org Volume Name: govuscourtsca9briefs0749
Volume: http://archive.org/stream/govuscourtsca9briefs0749
Document Link: http://archive.org/stream/govuscourtsca9briefs0749#page/n4/mode/1up
Top Keywords (auto-generated):
cross, 1903, 1902, affidavit, index, 1904, receiver, patent, certificate, non, john, answers, questions, examina, december
Top Key Phrases (auto-generated):
non mineral, cross examina, pub lication, publi cation, barber lumber, stone land, mineral affi, affi davit, af fidavit, sep tember, mineral af, frank steunenberg, 1903 ., exhibits nos., pat rick
Document Status: UGLY