v0775-573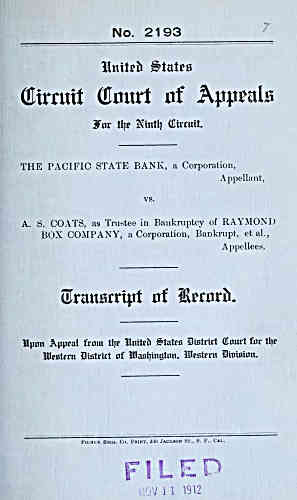 No. 2193 ^
Qltrrmt (Enurt af KppmU
THE PACIFIC STATE BANK, a Corporation,
Appellant,
vs.
COATS, as Trustee in Bankruptcy of RAYMOND
BOX COMPANY, a Corporation, Bankrupt, et al.,
Appellees.
ranarnpt of lnarh.
Mpon Appeal from tt Inmb mts WxBtrxtt (Eourt for tlt
WsBtmx itstrirt of llasltngton. Mfstfrtt ituistott.
FiLfKR Bros. Co. Print, 330 Jackson St.. S. F., Cal.
FILED
IIQV 1 1 1912
---
archive.org Volume Name: govuscourtsca9briefs0775
Volume: http://archive.org/stream/govuscourtsca9briefs0775
Document Link: http://archive.org/stream/govuscourtsca9briefs0775#page/n572/mode/1up
Top Keywords (auto-generated):
bank, pacific, mortgage, washington, raymond, corporation, bankrupt, box, property, creditors, 1912, district, trustee, petitioner, petition
Top Key Phrases (auto-generated):
raymond box, western district, notary public, pacific county, answering creditors, washington county, chattel mortgage, pacific ss., mort gage, county washington, washington southern, personal property, december 1910, corporate seal, jamieson deputy.,
Document Status: UGLY