v0775-735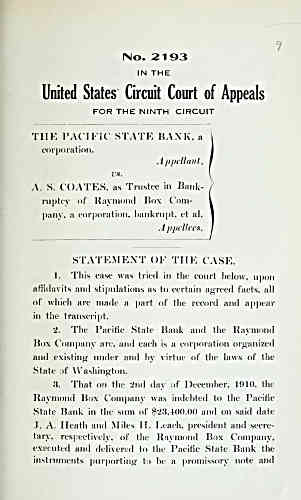 No. 2193
IN THE
ited States Circuit Court of Appeals
FOR THE NINTH CIRCUIT
THE PACIFIC STATE BANK, a
corporation,
Appellant,
vs.
COATES, as Trustee in Bank-
ruptcy of Raymond Box Com-
pany, a corporation, bankrupt, et al,
Appellees.
STATEMENT OF THE CASE.
This case was tried in the court below, upon
affidavits and stipulations as to certain agreed facts, all
of which are made a part of the record and appear
in the transcript.
The Pacific State Bank and the Raymond
Box Company are, and each is a corporation organized
and existing under and by virtue of the laws of the
State of Washington.
.3. That on the 2nd day of December, 1910, the
Raymond Box Company was indebted to the Pacific
State Bank in the sum of $23,400.00 and on said date
Heath and Miles H. Leach, president and secre-
tary, respectively, of the Raymond Box Company,
executed and delivered to the Pacific State Bank the
instruments pur)orting to he a )romissory note and
---
archive.org Volume Name: govuscourtsca9briefs0775
Volume: http://archive.org/stream/govuscourtsca9briefs0775
Document Link: http://archive.org/stream/govuscourtsca9briefs0775#page/n734/mode/1up
Top Keywords (auto-generated):
mortgage, corporation, property, acknowledgment, instrument, officer, creditors, bankrupt, certificate, statute, trustee, wash, president, execution, washington
Top Key Phrases (auto-generated):
chattel mortgage, raymond box, mort gage, notary public, rights remedies, personal property, cer tificate, creditor holding, bankrupt corporation, ac knowledgment, seattle coal, prop erty, estate mortgage, acknowl edgment, willamette casket
Document Status: UGLY