v0798-121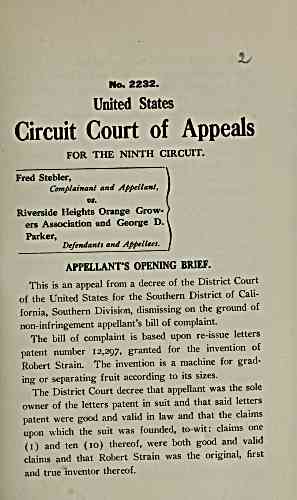 No. 2232.
United States
Circuit Court of Appeals
FOR THE NINTH CIRCUIT.
Fred Stebler,
Complainant and Appellant,
vs.
Riverside Heights Orange Grow-
ers Association and George D.
Parker,
Defendants and Appellees.
APPELLANT'S OPENING BRIEF.
This is an appeal from a decree of the District Court
of the United States for the Southern District of CaU-
fornia, Southern Division, dismissing on the ground of
non-infringement appellant's bill of complaint.
The bill of complaint is based upon re-issue letters
patent number 12,297, granted for the invention of
Robert Strain. The invention is a machine for grad-
ing or separating fruit according to its sizes.
The District Court decree that appellant was the sole
owner of the letters patent in suit and that said letters
patent were good and valid in law and that the claims
upon which the suit was founded, to-wit: claims one
(I) and ten (10) thereof, were both good and valid
claims and that Robert Strain was the original, first
and true inventor thereof.
---
archive.org Volume Name: govuscourtsca9briefs0798
Volume: http://archive.org/stream/govuscourtsca9briefs0798
Document Link: http://archive.org/stream/govuscourtsca9briefs0798#page/n120/mode/1up
Top Keywords (auto-generated):
patent, machine, strain, fruit, rollers, belt, roller, grading, invention, operation, machines, oranges, claims, end, grade
Top Key Phrases (auto-generated):
strain invention, grading opening, packing house, independently adjustable, letters patent, robert strain, grading openings, issue patent, packing houses, traveling belt, ma chine, parker patent, california graders, riverside heights, patent office
Document Status: UGLY