v0798-195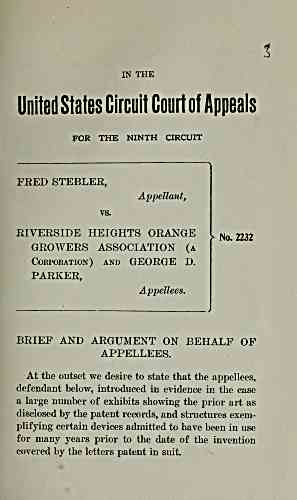 IN THE
United States GircyitGoort of Appeals
FOR THE NINTH CIRCUIT
i
FRED STEBLER,
Appellant,
vs.
RIVERSIDE HEIGHTS ORANGE
GROWERS ASSOCIATION (a
Coepoeation) and GEORGE D.
PARKER,
Appellees.
No. 2232
BRIEF AND ARGUMENT ON BEHALF OF
APPELLEES.
At the outset we desire to state that the appellees,
defendant below, introduced in evidence in the case
a large number of exhibits showing the prior art as
disclosed by the patent records, and structures exem-
plifying certain devices admitted to have been in use
for many years prior to the date of the invention
covered by the letters patent in suit.
---
archive.org Volume Name: govuscourtsca9briefs0798
Volume: http://archive.org/stream/govuscourtsca9briefs0798
Document Link: http://archive.org/stream/govuscourtsca9briefs0798#page/n194/mode/1up
Top Keywords (auto-generated):
fruit, patent, end, machine, runway, rollers, member, claims, letters, guide, rolls, non, rotary, parallel, grader
Top Key Phrases (auto-generated):
letters patent, fruit runway, non movable, rotary member, reissue letters, parallel members, fruit grader, end rollers, movable guide, patent office, grooved guide, passes vertically, movable grooved, fruit runway., california sizer
Document Status: UGLY