v0798-523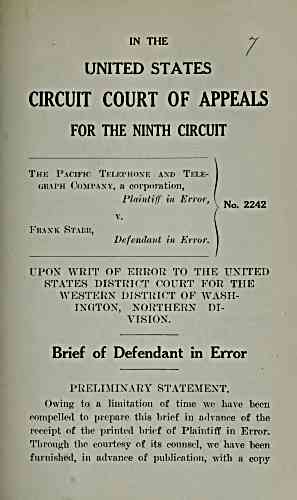 IN THE
UNITED STATES
CIRCUIT COURT OF APPEALS
FOR THE NINTH CIRCUIT
The Pacific Telephone axd Tele-
graph Company, a corporation,
Plaintiff in Error,
No. 2242
Frank Starr,
Defendant in Error
UPON WRIT OF ERROR TO THE UNITED
STATES DISTRICT COURT FOR THE
WESTERN DISTRICT OF WASH-
INGTON, NORTHERN DI-
VISION.
Brief of Defendant in Error
PRELIMINARY STATEMENT.
Owing to a limitation of time we have been
compelled to prepare this brief in advance of the
receipt of the printed brief of Plaintiff in Error.
Through the courtesy of its counsel, we have been
furnished, in advance of publication, with a copy
---
archive.org Volume Name: govuscourtsca9briefs0798
Volume: http://archive.org/stream/govuscourtsca9briefs0798
Document Link: http://archive.org/stream/govuscourtsca9briefs0798#page/n522/mode/1up
Top Keywords (auto-generated):
ladder, servant, master, ladders, defect, duty, cross, work, inspection, grained, tools, obvious, risk, foreman, furnish
Top Key Phrases (auto-generated):
cross grained, common tools, longer ladder, lad ders, negli gence, lad der, grained rung, furnish ladders, fellow servants, fellow servant, spliced ladder, short pieces, short ladders, ser vants, ser vant
Document Status: UGLY