v0798-643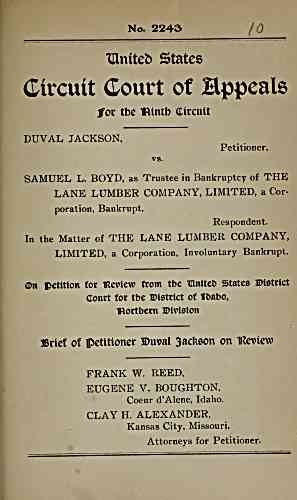 No. 2243 10
mniteb States
Circuit Court ot Hppcals
for tbe mtrttb Ctrcutt
DUVAL JACKSON,
Petitioner,
vs.
SAMUEL L. BOYD, as Trustee in Bankruptcy of THK
LANE) LUMBER COMPANY, LIMITED, a Cor-
poration, Bankrupt,
Respondent.
In the Matter of THE LANE LUMBER COMPANY,
LIMITED, a Corporation, Involuntary Bankrupt.
n petition for IReview trom tbe mnite& States District
Court for tbe S)istrict of ir&abo,
Bortbern Division
Brief ot petitioner Duval Jacfeon ow. IReview
FRANK W. REED,
EUGENE V. BOUGHTON,
Coeur d'Alene, Idaho.
CLAY H. ALEXANDER,
Kansas City, Missouri.
Attorneys for Petitioner.
---
archive.org Volume Name: govuscourtsca9briefs0798
Volume: http://archive.org/stream/govuscourtsca9briefs0798
Document Link: http://archive.org/stream/govuscourtsca9briefs0798#page/n642/mode/1up
Top Keywords (auto-generated):
petitioner, trustee, duval, jackson, property, purchase, contract, petition, bid, accepted, acceptance, right, withdraw, samuel, offers
Top Key Phrases (auto-generated):
duval jackson, lane lumber, public auction, petitioner duval, trus tee, jack son, alene idaho., ac ceptance, wal lace, reed eugene, pe titioner, lace 656, kansas city, involuntary bankrupt., hon orable
Document Status: UGLY