v0798-657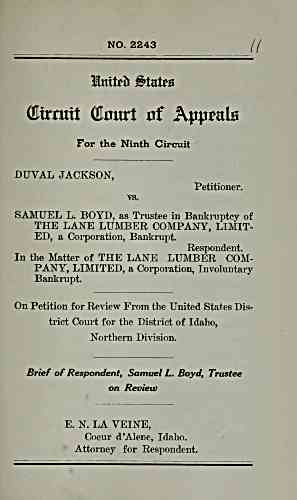 NO. 2243 ((
Qltrrmt Qlourt of Applfi
For the Ninth Circuit
DUVAL JACKSON,
Petitioner,
vs.
SAMUEL L. BOYD, as Trustee in Bankruptcy of
THE LANE LUMBER COMPANY, LIMIT-
ED, a Corporation, Bankrupt.
Respondent.
In the Matter of THE LANE LUMBER COM-
PANY, LIMITED, a Corporation, Involuntary
Bankrupt.
On Petition for Review From the United States Dis-
trict Court for the District of Idaho,
Northern Division.
Brief of Respondent, Samuel L, Boyd, Trustee
on Review
LA YEINE,
Coeur d'Alene, Idaho.
Attorney for Respondent.
---
archive.org Volume Name: govuscourtsca9briefs0798
Volume: http://archive.org/stream/govuscourtsca9briefs0798
Document Link: http://archive.org/stream/govuscourtsca9briefs0798#page/n656/mode/1up
Top Keywords (auto-generated):
trustee, duval, jackson, 1912, petitioner, bankrupt, petition, transcript, property, purchase, boyd, july, samuel, creditors, 2000
Top Key Phrases (auto-generated):
duval jackson, personal property, july 15th, 15th 1912, earnest money, lane lumber, express understanding, jack son, accep ted, 2000 earnest, 1st 1912, trans cript, peti tioner, pe titioner, duval jack
Document Status: UGLY