v0813-261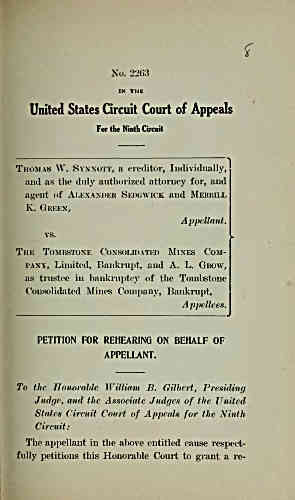 f
No. 2263
IN THE
United States Circuit Court of Appeals
For the Ninth Circuit
Thom s VY. Svxxott, a creditor, Individually,
and as the duly authorized attorney for, and
agent of Alexander Sedgwick and Merrill
Green,
Appellant.
vs.
The Tombstone Consolidated Mines Com-
pany, Limited, Bankrupt, and A. L. Grow,
as trustee in bankruptcy of the Tombstone
Consolidated Mines Company, Bankrupt,
Appellees.
PETITION FOR REHEARING ON BEHALF OF
APPELLANT.
To the Honorable William B. Gilbert, Presiding
Judge, and the Associate Judges of the United
States Circuit Court of Appeals for the Ninth
Circuit :
The appellant in the above entitled cause respect-
fully petitions this Honorable Court to grant a re-
---
archive.org Volume Name: govuscourtsca9briefs0813
Volume: http://archive.org/stream/govuscourtsca9briefs0813
Document Link: http://archive.org/stream/govuscourtsca9briefs0813#page/n260/mode/1up
Top Keywords (auto-generated):
bonds, 1913, tombstone, petition, mines, honorable, district, consolidated, bankrupt, transcript, thomas, special, referee, decision, contract
Top Key Phrases (auto-generated):
tombstone consolidated, consolidated mines, special contract, limited bankrupt, contract bonds, thereupon petitioned, taylor doan, sub mitted., serial nos., san francisco, respectfully sub, respectfully invite, referee disallowed, providing thai, printed transcript
Document Status: UGLY