v0813-97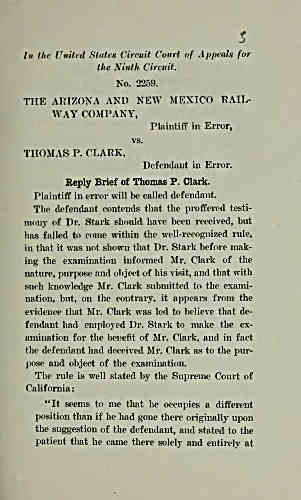 Iii the United States Circuit Court of Appeals for
the Xiiitit circuit.
No. 2259.
THE ARIZONA AND NEW MEXICO RAIL-
WAY COMPANY,
Plaintiff in Error,
vs.
THOMAS P. CLARK,
Defendant in Error.
Reply Brief of Thomas P. Clark.
Plaintiff in error will be called defendant.
The defendant contends that the proffered testi-
mony of Dr. Stark should have been received, but
has failed to come within the well-recognized rule,
in that it was not shown that Dr. Stark before mak-
ing the examination informed Mr. Clark of the
nature, purpose and object of his visit, and that with
such knowledge Mr. Clark submitted to the exami-
nation, but, on the contrary, it appears from the
evidence that Mr. Clark was led to believe that de-
fendant had employed Dr. Stark to make the ex-
amination for the benefit of Mr. Clark, and in fact
the defendant had deceived Mr. Clark as to the pur-
pose and object of the examination.
The rule is well stated by the Supreme Court of
California :
"It seems to me that he occupies a different
position than if he had gone there originally upon
the suggestion of the defendant, and stated to the
patient that he came there solely and entirely at
---
archive.org Volume Name: govuscourtsca9briefs0813
Volume: http://archive.org/stream/govuscourtsca9briefs0813
Document Link: http://archive.org/stream/govuscourtsca9briefs0813#page/n96/mode/1up
Top Keywords (auto-generated):
clark, stark, ry, dr, thomas, submitted, nature, xiiitit, visit, utah, testify, testi, supreme, suggestion, street
Top Key Phrases (auto-generated):
utah 220., testi mony, street cable, salt lake, respectfully submitted, pur pose, proffered testi, physical injuries, mexico rail, market street, gorman 94, exami nation, employed dr., clark submitted, cable ry.,
Document Status: UGLY