v0853-301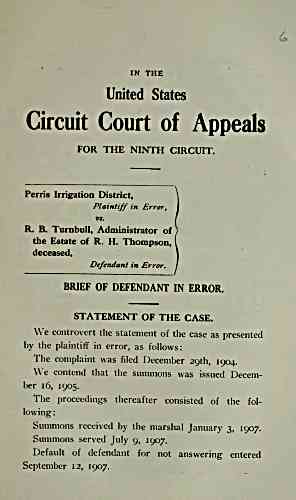 IN THE
United States
Circuit Court of Appeals
FOR THE NINTH CIRCUIT.
Perris Irrigation District,
Plaintiff in Error,
vs.
Turnbull, Administrator of
the Estate of R. H. Thompson,
deceased.
Defendant in Error.
BRIEF OF DEFENDANT IN ERROR.
STATEMENT OF THE CASE.
We controvert the statement of the case as presented
by the plaintifif in error, as follows:
The complaint was filed December 29th, 1904.
We contend that the summons was issued Decem-
ber 16, 1905.
The proceedings thereafter consisted of the fol-
lowing :
Summons received by the marshal January 3, 1907.
Summons served July 9, 1907.
Default of defendant for not answering entered
September 12, 1907.
---
archive.org Volume Name: govuscourtsca9briefs0853
Volume: http://archive.org/stream/govuscourtsca9briefs0853
Document Link: http://archive.org/stream/govuscourtsca9briefs0853#page/n300/mode/1up
Top Keywords (auto-generated):
summons, issued, california, default, filing, served, district, process, code, sheriff, section, marshal, civil, statute, courts
Top Key Phrases (auto-generated):
civil procedure, irrigation district, perris irrigation, revised statutes, pro cedure, southern district, section 911, civil pro, 69 cal., stuart 69, statutes provides, stale matters., served july, section 581a, pro vides
Document Status: UGLY