v0853-579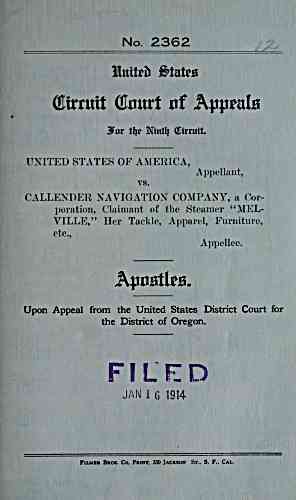 No. 2362
Oltrrutt doitrt of Appala
Jar tlc jNiutlj (Eirruit.
UNITED STATES OF AMERTPA,
Appellaut,
vs.
CALLENDEU NAVIGATION COMPANY, a Cor-
poration, Claimant of the Steamer "MEL-
VILLE," Her Taelde, Apparel, Furniture,
etc.,
Appellee.
ApoatbH.
Upon Appeal from the United States District Court for
the District of Oregon.
FILED
JAN 1 6 1914
FiLMER Bros. Co. Print, 330 Jackson St.. S. F.. Cal.
---
archive.org Volume Name: govuscourtsca9briefs0853
Volume: http://archive.org/stream/govuscourtsca9briefs0853
Document Link: http://archive.org/stream/govuscourtsca9briefs0853#page/n578/mode/1up
Top Keywords (auto-generated):
boat, callender, steamer, district, melville, dock, oregon, navigation, st, helens, raft, passengers, log, fulton, libel
Top Key Phrases (auto-generated):
callender navigation, steamer melville, log raft, tackle apparel, apparel furniture, mel ville, helens shipbuilding, gang plank, steamer mel, columbia river, mowry assistant, log raft., cor poration, rankin assistant, poration claimant
Document Status: UGLY