v0957-727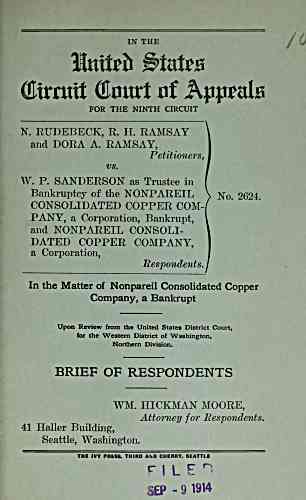 m THE
ffltrmtt ffiourt af Kppmh
FOR THE NINTH CIRCUIT
RUDEBECK, R. H. RAMSAY
and DORA A. RAMSAY,
Petitioners,
vs.
SANDERSON as Trustee in
Bankruptcy of the NONPAREIL jsq 2624
CONSOLIDATED COPPER COM-i
PANY, a Corporation, Bankrupt,
and NONPAREIL CONSOLI-
DATED COPPER COMPANY,
a Corporation,
Respondents.
In the Matter of Nonpareil Consolidated Copper
Company, a Bankrupt
Upon Review from the United States District Court,
for the Western District of Washington,
Northern Division.
BRIEF OF RESPONDENTS
WM. HICKMAN MOORE,
Attorney for Respondents.
41 Haller Building,
Seattle, Washington.
THE IVY PRESS. THIRD AND CHERRY. SEATTLE
F I L F '^'
SEP - 9 WW
---
archive.org Volume Name: govuscourtsca9briefs957
Volume: http://archive.org/stream/govuscourtsca9briefs957
Document Link: http://archive.org/stream/govuscourtsca9briefs957#page/n726/mode/1up
Top Keywords (auto-generated):
corporation, adjudication, bankrupt, bankruptcy, trustees, petition, washington, laws, rudebeck, power, petitioners, district, ramsay, nonpareil, creditors
Top Key Phrases (auto-generated):
consolidated copper, western district, washington northern, national bank, petitioner rudebeck, nonpareil consolidated, nonpareil consoli, kenwood ice, hickman moore, corporation respondents., corporation bankrupt, titioner rudebeck, seattle washington., ramsay petitioners, petitioner nicholas
Document Status: UGLY