v1000-505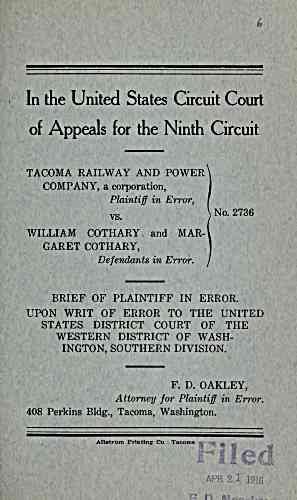 In the United States Circuit Court
of Appeals for the Ninth Circuit
TACOMA RAILWAY AND POWER
COMPANY, a corporation,
Plaintiff in Error,
yg No. 2736
WILLIAM COTHARY and MAR-
GARET COTHARY,
Defendants in Error.
BRIEF OF PLAINTIFF IN ERROR.
UPON WRIT OF ERROR TO THE UNITED
STATES DISTRICT COURT OF THE
WESTERN DISTRICT OF WASH-
INGTON, SOUTHERN DIVISION.
OAKLEY,
Attorney for Plaintiff in Error.
408 Perkins Bldg., Tacoma, Washington.
Allstrum Printing Co. Tacoma --
---
archive.org Volume Name: govuscourtsca9briefs1000
Volume: http://archive.org/stream/govuscourtsca9briefs1000
Document Link: http://archive.org/stream/govuscourtsca9briefs1000#page/n504/mode/1up
Top Keywords (auto-generated):
car, turnstile, struck, track, cothary, platform, right, helander, gate, accident, ry, street, whistle, negligence, walked
Top Key Phrases (auto-generated):
street car, car struck, railroad track, wire fence, oscar helander, contributory negligence, car length, turnstile failed, street car., right behind, paul jackson, pacific ry., car coming, working almost, william cothary
Document Status: UGLY