v1003-383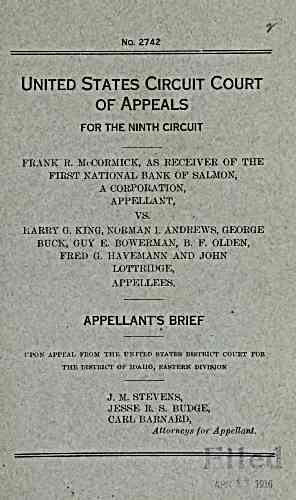 r
No. 2742
United States Circuit Court
OF Appeals
FOR THE NINTH CIRCUIT
FRANK E. MoCOEMICK, AS EE,CEIVEE OF THE
FIE8T NATIONAL BANK OF SALMON,
A GOEPOEATION,
APPELLANT,
VS.
KAREY G. KING, NOE.MAN I. ANDEEWS, GEORGE
BUCK, GUY E. B0'WBR:MAN, B. F. OLDEN,
FEED G. HAVEMANN AND JOHN
LOTTEIDGE,
APPELLEES.
APPELLANTS BRIEF
UPON APPEAL FROM THK UNITED STATES DISTRICT COURT FOR
THE DISTKICT OF IDAHO, EASTERN" DIVISION"
STEVENS,
JESSE R. S. BUDGE,
CAELBAENAED,
Attorneys for Appellant.
--: %. "V.
1916
---
archive.org Volume Name: govuscourtsca9briefs1003
Volume: http://archive.org/stream/govuscourtsca9briefs1003
Document Link: http://archive.org/stream/govuscourtsca9briefs1003#page/n382/mode/1up
Top Keywords (auto-generated):
bank, directors, loans, negligence, loss, duty, business, affairs, bowerman, liable, king, conduct, committee, meetings, president
Top Key Phrases (auto-generated):
discount committee, salmon lumber, national bank, entire period, regular meeting, ordinary care, negli gence, insti tution, bank directors, lighted match, june 1911, direc tors, defend ants, stock holders, stevens jesse
Document Status: UGLY