v1026x-733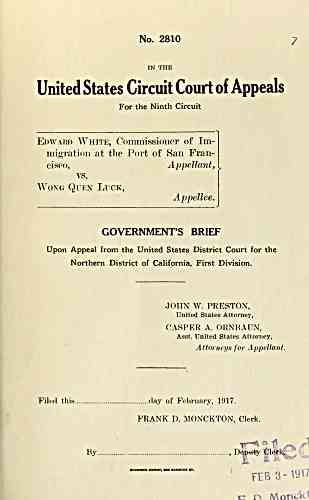 No. 2810
IN THE
United States Circuit Court of Appeals
For the Ninth Circuit
Edward White, Commissioner of Im-
migration at the Port of San Fran-
cisco, Appellant,
vs.
Wong Quen Luck,
Appellee.
GOVERNMENT'S BRIEF
Upon Appeal from the United States District Court for the
Northern District of California, First Division.
JOHN W. PRESTON,
United States Attorney,
CASPER A. ORNBAIJN,
Asst. United States Attorney,
Attorneys for Appellant.
Filed this day of February, 1917.
FRANK D. MONCKTON, Clerk.
y CI
HANNOH-OONMT, 108 lAHlOMt IT.
FEB 3- W
c r Mo;
---
archive.org Volume Name: govuscourtsca9briefs1026x
Volume: http://archive.org/stream/govuscourtsca9briefs1026x
Document Link: http://archive.org/stream/govuscourtsca9briefs1026x#page/n732/mode/1up
Top Keywords (auto-generated):
father, applicant, wong, immigration, quen, luck, china, commissioner, officials, discrepancies, house, grandfather, son, san, inspector
Top Key Phrases (auto-generated):
wong quen, quen luck, immigration officials, habeas corpus, san francisco, paternal grandfather, korea june, wong shoon, wong ho, wong ben, shoon jung, paternal grand, immi gration, im migration, father owns
Document Status: UGLY